---
In Episode 13 of Talking Agility, host Elitsa Nacheva talks with Accenture's Edwin Van der Ouderaa and Andy Young about trust in the workplace and how fear can derail transformation—before it even begins.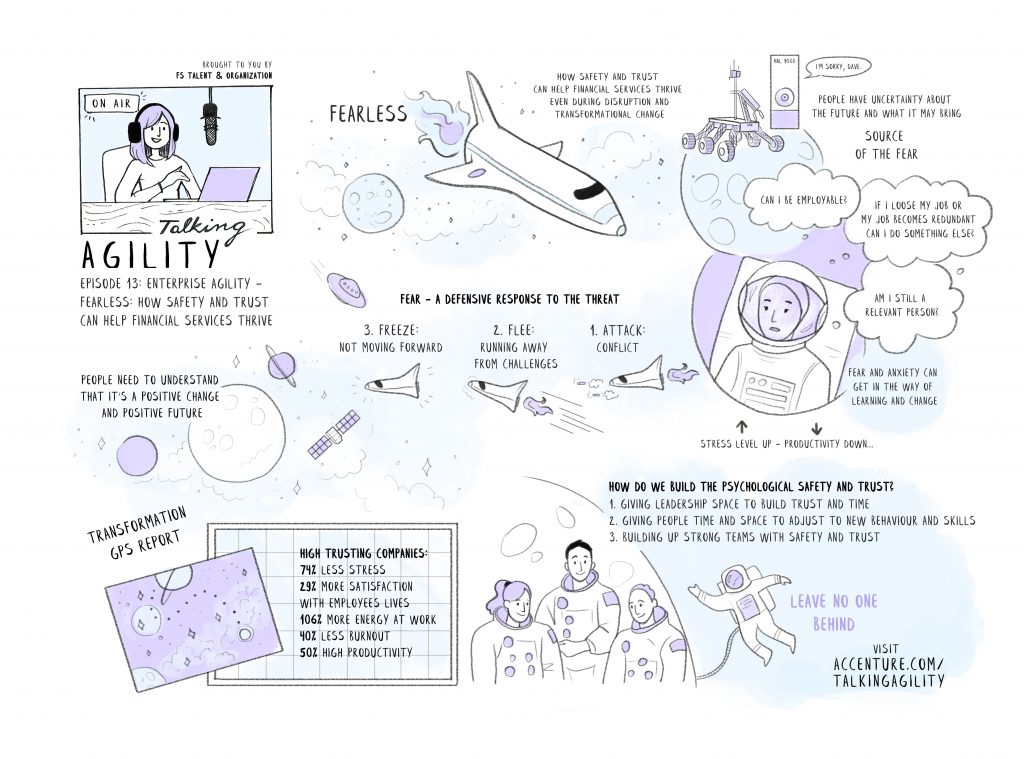 I read a quote some time ago that change is good, but transformation is even better; but the thing is that transformation is a confusing process. On the one hand it's exciting­­. By bringing previously unknown experiences and opportunities, change can be inspiring and uplifting. But on the other hand, it can be an intimidating time for the workforce, in which fear of an uncertain future can cause anxiety and stress. Often, it's both at the same time. With disruption happening at an ever-increasing pace in the workplace, how can you manage anxiety in order to navigate effectively towards successful transformations?
My guests in episode 13 of Talking Agility have been thinking about this question quite a bit. Edwin Van der Ouderaa is Senior Managing Director with Accenture's Financial Services Digital and Global Lead of Digital Decoupling. Andy Young is a Managing Director and the Global Agile Organization Lead with Accenture's Financial Services Talent & Organization. Both have worked extensively on agility and recently co-authored a report with other Accenture leads titled "Fearless: how safety and trust can help financial services thrive even during disruption and transformational change."
"I think it's probably the most comprehensive study done on this subject so far," says Van der Ouderaa.
The report tackles the challenge of transformation head on, revealing that anxiety and fear are derailing change in financial services organizations.
"We know from our data on transformation that 85 percent of transformations that fail do so because of issues of trust in the organization," Andy Young explained. "We spoke to about 800 executives––but more importantly we spoke with 5,000 workers within the industry––and what really came out in the results was a very high level of fear and anxiety within the workforce."

Fear and anxiety exist where there is an absence of safety and trust: the safety to experiment, trust that you won't be punished for speaking up and putting forward new ideas, and trust that you will still have a job in the months and years to come. Anxiety is the antithesis of safety and is rooted in fear.
"It's clear that the human factor is most important. We need to get that right."

– Andy Young, Managing Director and Global Agile Organization Lead, Accenture FS
So how do leaders establish a culture of safety and trust in order to mitigate anxiety and shift the perspective from one of fear to one of positivity?
"There is often a negative narrative around change," says Van der Ouderaa. "[A lot of people] get locked into a negative narrative, where negative words are being used to describe the situation and that starts fueling all that fear inside of people. So, it's important to get people to understand that this is about positive things and that there is a positive future for themselves, too."
We know it's important to change the narrative around transformation from one of negativity or fear to something positive, but as both Andy and Edwin pointed out, it takes strong leadership to make that happen. When employees feel safe and supported, what they produce is almost always better––and that support comes from the top down.
Something else I hear about a lot, and indeed it's something we discussed in our previous episode of Talking Agility, is the concept of failing fast. In order to respond to a rapidly changing workplace, with new digital tools and tech emerging every day, it's important to be able to react fast. That means problem-solving in ways that may be entirely new. Some of it will work and some won't, and that is okay; what failing fast allows for is an active response to an emerging challenge. But failing fast can only happen when an employee believes that his or her ideas aren't going to cost them their job. It's built on trust.
Interestingly, while Edwin believes in trust and quick iteration, he does to some extent take issue with the term 'fail fast'.
"It's a bit of a funny expression," he explained, adding that no one actually wants to fail—it's an unpleasant experience. "What they mean is that you should be in a safe environment where you can experiment and try things. We're in the unknown, so nobody will get it right the first time."
The conversation between Edwin, Andy and I was definitely an interesting one. It touched on far more than just the trust issue. I think that the insights both Edwin and Andy shared are really valuable for anyone experiencing change––which, of course, is just about everyone!
You can register here to read the full report: Fearless: how safety and trust can help financial services thrive even during disruption and transformational change.
As a reminder, there is a new episode every two weeks—you can subscribe here, or on iTunes, Soundcloud or Spotify to revisit our previous episodes and be updated when there is a new one live. You can find me on Twitter, LinkedIn, or through the website. I'd love to hear from you—please get in touch and share your thoughts! In the spirit of agile, we look to iterate all the time!