Other parts of this series:
---
The challenges for banks and financial services companies just keep on coming. Across the globe, regulatory demands, new standards, increased shareholder pressure, and new, agile competitors are testing the abilities of banks and financial services companies alike.
In this series, I will show how banks and financial services companies can face up to these challenges by employing cloud as a business asset, and undergo true digital transformation—putting technology at the core of their business—to reap significant benefits and gain a competitive edge.
Challenges create a volatile environment
In today's constantly changing technology landscape, banks and financial services companies alike are struggling with challenges in several areas. These include:
Increasing regulatory requirements for enhanced transparency.
New standards regarding the treatment of customers.
Increased shareholder pressure for faster growth and higher margins.
Competition from traditional and non-traditional players.
As shown in the Figure below, these challenges create a complex competitive environment for banks and financial services companies, made up of external and internal challenges, as well as market pressure.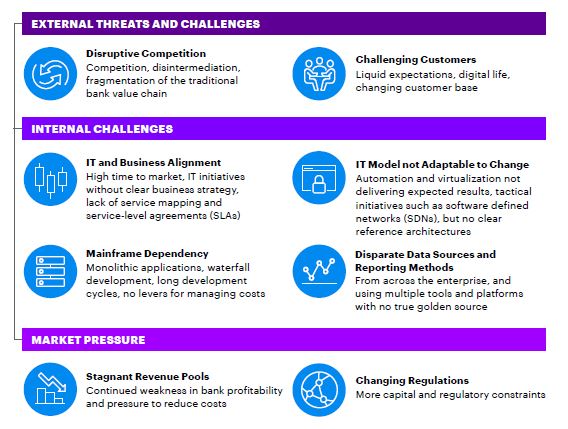 In this environment of change, quick-thinking competitors and start-ups both within and outside the financial services space are using digital technologies to offer customers personalized products at lower cost.
As a result, traditional banks and financial services companies still burdened by legacy systems and outdated operating models are at risk of being left behind by these faster, more agile and more innovative competitors.
Cloud technology offers a new approach
In an effort to remain competitive, banks and financial services companies are exploring cloud technology. Some are using cloud to attain specific objectives, such as bypassing legacy systems or developing new products or markets.
However, such a piecemeal strategy still shows a lack of commitment to innovation. While compensating for limits imposed by legacy technology or development of new products are important goals, it may be difficult to realize desired business outcomes if the firm's culture remains static.
Cloud can do more than compensate for legacy limitations.
Rather than engaging in piecemeal cloud projects, banks and financial services companies are well advised to develop a comprehensive and well-executed cloud strategy that captures the full potential and power of this transformative technology.
In my next post, I will explain how cloud, when used as a business asset and not just a technology, can serve as the foundation for true digital change.
Until then, take a look at the full Moving to the Cloud—Creating a Cloud-Based Strategy for Banks and Financial Services Companies in North America report.