Other parts of this series:
---
In the previous blog in the series, we discussed how data is foundational to managing expenses, identifying cost reduction opportunities and maintaining cost control.  The concept of applying cost management with the use of spend categories was introduced to encourage a cross business approach to managing expenses.
Business-wide spend categories can be used to encourage greater alignment between finance and procurement.  Large financial services firms typically have thousands of suppliers generating millions of transactions.  To control expenses and reduce inefficiencies within the procure-to-pay process, finance and procurement should have common objectives and strategy.
This becomes even more critical as financial services firms seek to deliver on their commitments to stakeholders to reduce expenses.  Based upon Accenture's experience and analysis, third-party expenditures can account for up to 40 to 45 percent of the total cost base.
Throughout the end-to-end purchase order (PO) process — from sourcing to cost accounting (accruals) and invoice processing — finance and procurement should work together to increase business impact and control expenses.
The two functions should:
Establish clear design principles shared by both finance and procurement by:
Enforcing PO usage with control over accounting information.
Automatically generating accruals based on goods and/or services for which receipts are generated in the PO tool.
Automating accruals and/or invoice matching based on a three-way match (PO, good-receipt, invoice), with clear definitions of exceptions using the two-way match.
2. Maintain effective procure-to-pay (P2P) governance over the PO process by:
Defining and enforcing key PO policies, driven by both finance and procurement, such as "No PO no pay" and "No PO without accounting instructions."
Introducing finance approval at the contracting stage and in the requisition process.
Defining key performance indicators (KPIs) and key process controls (KPCs) to monitor PO process compliance.
Implementing cost category management (which in our experience can help drive savings of up to 20% through increased accountability and a focus on demand management).
3. Implement enterprise-wide platforms with:
Full integration between the PO tool, enterprise resource planning (ERP) and e-invoicing system, allowing for straight-through processing (STP). This should help fix issues at the source, as errors in the PO set up (for example, missing or incorrect accounting information) can drive inefficiencies in the downstream processes, such as incorrect accruals requiring manual adjustments and issues with automatic accruals/invoice matching.
An effective PO tool. It is essential to engage finance early in the PO tool implementation process to capture accounting requirements in the design.
Full integration between the PO tool and the ERP platform.  This allows for automated accruals and matching of accruals and invoices.
E-invoicing — leveraging e-procurement and e-invoicing capabilities (such as SAP® Ariba® and Coupa procure from Coupa Software Inc.) to permit straight-through invoice processing.
4. Harmonize the reporting and analytics structure to:
Link spend reporting and cost reporting.
Understand expenses ("Who spends how much on what") through enhanced visibility and transparency.
Analyze key trends in consumption (such as buying "as a service" versus building in house).
Model demand to inform category planning
Source-to-Pay Procurement Journey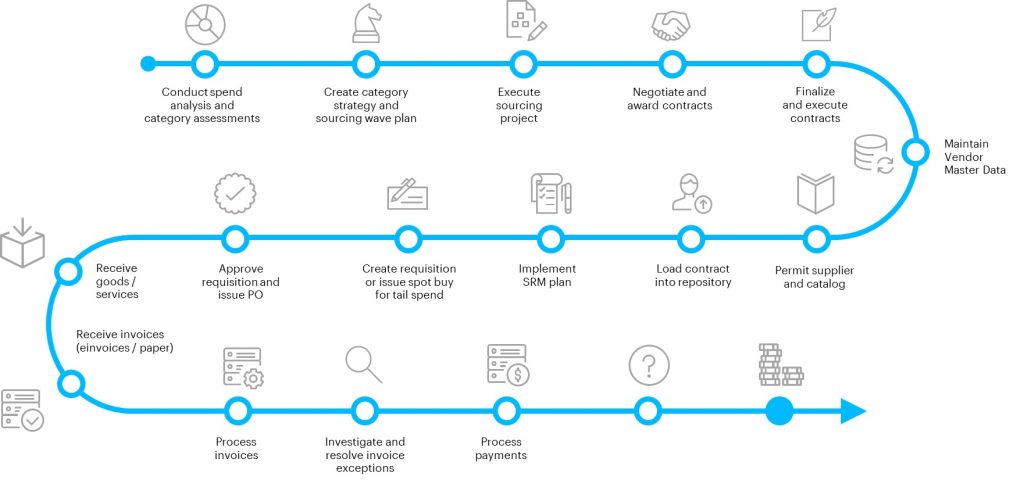 In our next blog we will be looking at how financial services firms can improve and accelerate the returns on their investments in digital technology for the finance function. In the meantime, read our CFO Reimagined report in banking and insurance.