---
Accenture Research spoke to more than 1,200 CEOs and top executives working with AI, as well as to 14,000 workers across 12 industries and 11 countries to understand how they are approaching AI. Both FS leaders and workers understand its importance:
Over 75 percent of insurers and banks plan to use AI to automate tasks in the next three years and over half believe human-machine collaboration is important to achieve their strategic priorities.
Two-thirds say AI will improve workforce productivity, and almost all (98 percent +) say they intend to use it to enhance worker capabilities.
Bank and insurance workers are also keen. They believe AI will make their jobs simpler (70 percent) and expand their career prospects (57 percent). Two out of three expect it to create opportunities for their work.
However, FS leaders are not putting their money where their mouths are. Less than 5 percent plan to significantly increase their investment in reskilling programs in the next three years. As AI becomes more pervasive within the organisation – and it's ramping up quickly – this could limit the FS organisation's ability to leverage AI.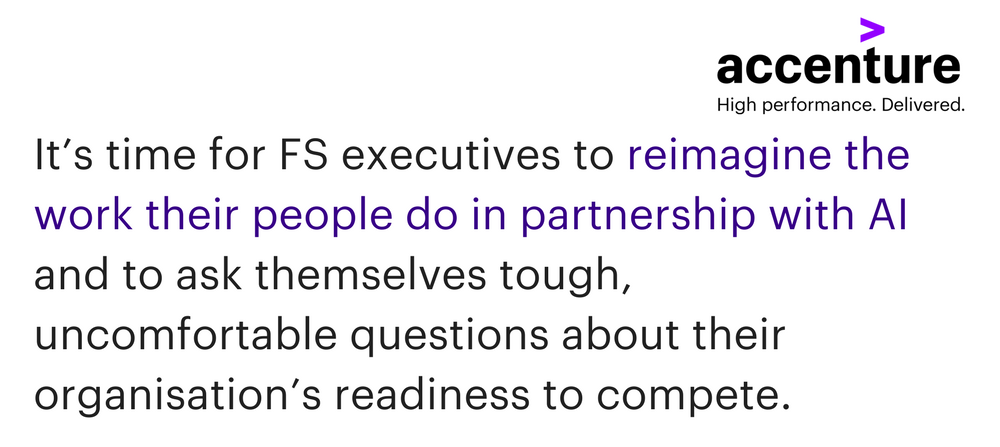 Until now, digitalisation has impacted groups of people in different parts of the organisation. Indeed, our research shows that almost a third of bank (28 percent) and insurance (30 percent) employees say they already work with intelligent technologies for more than 50 percent of their time. However, applied intelligence, by our definition, will be much more pervasive. It will require a much more focussed effort in terms of reskilling.
Applied intelligence is the combination of intelligent technology and human ingenuity applied at the core of business – across every function and process – to address the organisation's most complex challenges.
So, where is AI investment currently going?
A recent Accenture survey of 21 leading FS Chief Data officers asked about the allocation of FS firms' investments in AI to build a future-aligned AI capability.
This was their collective response: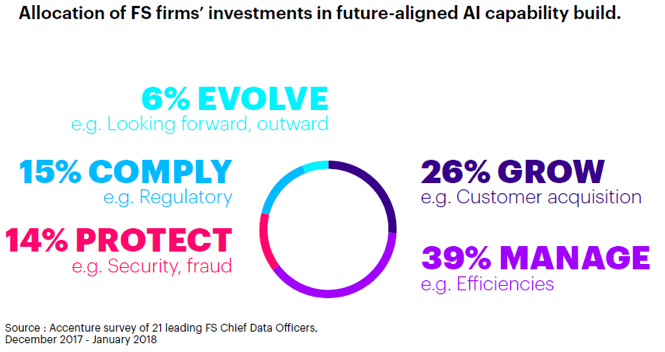 The response of an HR shared services manager at a leading Australian bank offers more insight. He put it this way:
"In every part of my portfolio I think AI can enhance and produce better outcomes. It's just a case of how we decide to approach that from a total organisation perspective … but at an organisational level, we haven't put that into a single strategy for how we want to go forward … I think that's probably holding us back a little."
So how can insurers and bankers seize this opportunity to bring new AI skills and experience to their employees and embed an applied intelligence approach?
It will require dedicated leadership at the highest level and a cross-enterprise strategy with long-term budgeting to achieve this scale of transformation.
Our research points to three key actions leaders can take:
Reimagine work to better understand how machines and people can collaborate.
Pivot the workforce to areas that create new forms of value.
Scale up 'new skilling' to enable people to work with intelligent machines.
Join me over the next three weeks as I drill down into these three areas.
Until then, you may be interested in Accenture's latest research and thought leadership on the impact of AI in the banking and insurance sectors: