---
In my last blog post based on "Fjord Trends 2018," I talked about how financial services (FS) firms can empower and prepare their workforce for a personalized experience that blends the physical with the digital for both customers and employees.
While bringing human interaction back into the fold of customer and employee experiences will be a necessity in 2018, Fjord is also quick to point out the growing importance of algorithms in its annual report by including "Slaves to the Algorithm" as one of the major trends affecting business, technology and design in the year ahead.
Fjord sees a continued rapid evolution of data-driven algorithms and voice-enabled digital assistants. For FS firms, this trend points to exciting new opportunities to use data to attract, recruit and retain employees. Artificial intelligence (AI) and chatbots are already making a difference in the recruiting process and can even help FS firms use data to form deeper connections with their employees.
Our recent report, "Embracing Chatbots," highlights one great example: FirstJob automates up to 75 percent of its screening and qualifying processes using Mya, an AI recruiting assistant. Potential candidates can interact with Mya via messaging platforms, where it offers them personalized updates, feedback and next-step suggestions. With Mya, FirstJob has improved its recruiter efficiency by 38 percent and candidates have become 150 percent more engaged than before.
Earlier this year, we covered how chatbots are becoming a must in HR tech, citing the survey by the IBM Institute for Business Value, which found that 65 percent of CEOs expect cognitive computing to drive significant value in HR.
When it comes to harnessing the power of AI as an enabler of a better employee experience, Accenture Strategy research shows that many companies are either using or piloting a range of technologies including internal collaboration tools (85 percent), predictive employee services technologies that anticipate employee needs (83 percent) and self-service apps that mimic consumer experiences (79 percent). Taken together, these tools offer FS firms and others deeper connections with the workforce in a cost-effective way and at scale.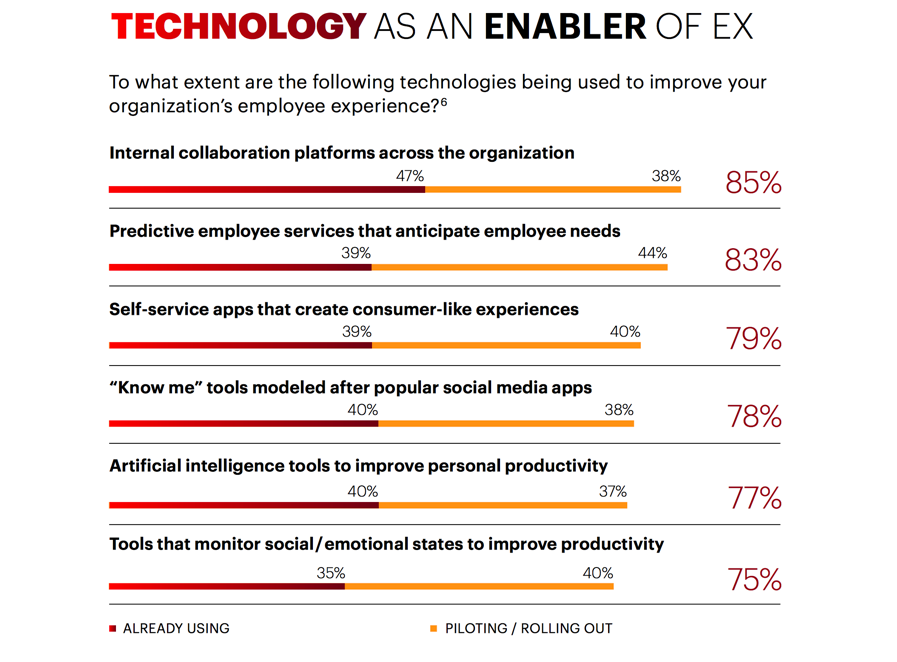 In January, during the annual gathering of the World Economic Forum in Davos, we released our latest report, "Reworking the Revolution," which underscores the importance of AI and other new technologies when it comes to improving learning experiences for the workforce.
Our report found that "new skilling" will be a key factor in building the future workforce. Virtual and augmented reality technologies can provide innovative learning experiences and help companies achieve more with less.
Here at Accenture, we lowered our cost of training hours by more than 25 percent by expanding our digital learning channels, while increasing the number of training hours by 40 percent.
FS firms that leverage AI and digital assistants in talent management will have a better chance of shaping a better workforce of the future in the coming years.
In my next post I will look into another key 2018 Fjord trend as it applies to the FS workforce: transparency.
To learn more, read the full report: 2018 Fjord Trends.