---
Summary: Elitsa is joined by Andy Young, Managing Director for Accenture's Talent and Organization practice, to discuss the value of agility and roadblocks to achieving it in times of extraordinary, unexpected change.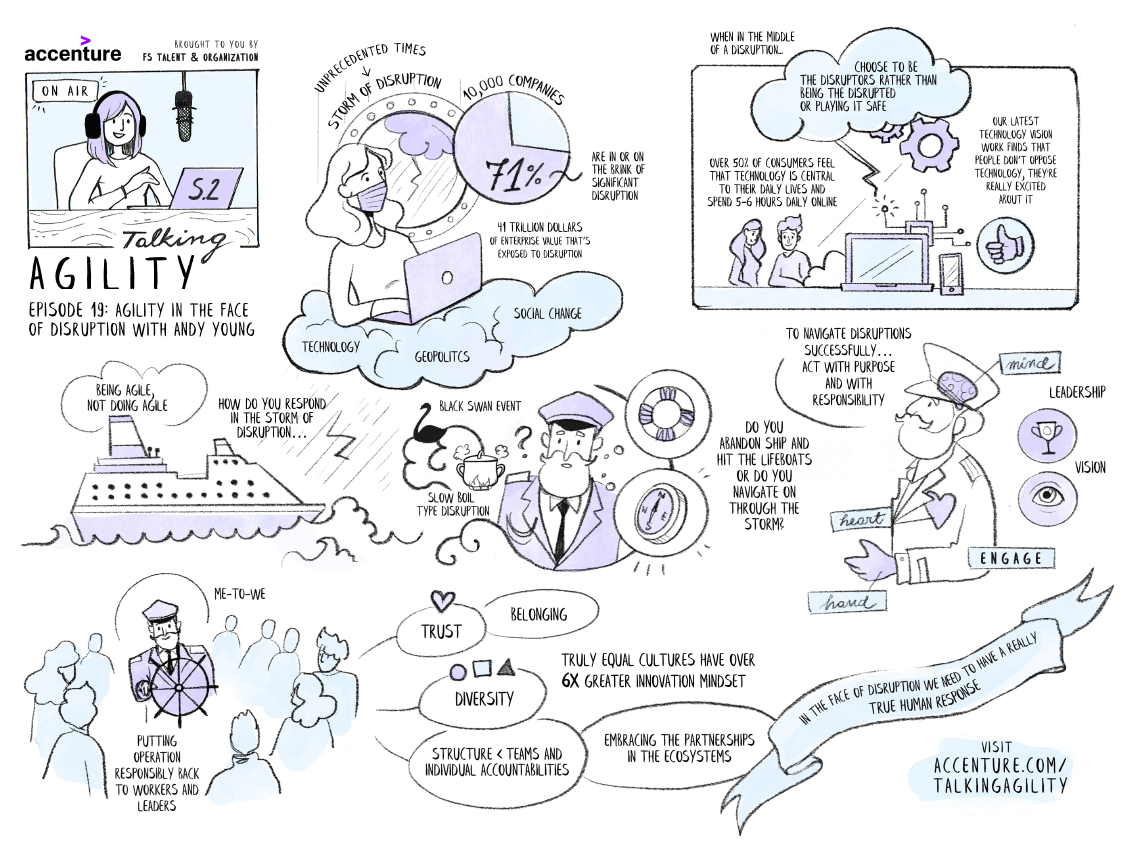 It can seem hard to believe that it's still 2020. The world has changed so much since January 1, that it feels like we must have passed into a new year by now—maybe a new decade.
Sometimes I catch myself thinking along these lines, and I know I'm not alone. It's proof that disruption on the biggest scale can happen a lot faster than we can imagine.
So where does that leave us as businesses, as agile practitioners, and—perhaps most importantly—as human beings?
Andy Young, who leads our Talent & Organisation practice across FS globally and our cross-industry capability for Agility and Transformation, joins me on the latest episode of Talking Agility to explore these questions and more.
Here is a look at some of the highlights from our conversation.
Disruption is inevitable—but the choices we make still matter
I was interested to find out how we respond to disruption with agility and the role leaders play in creating businesses and workforces that embrace and thrive during change.
So, I started off by asking Andy to describe the current business climate in terms of disruption:
"71 percent of companies we looked at recently are on the brink of disruption," he said, referring to the most recent Accenture Disruptability Index. "Something like $41 trillion in market value is exposed—and I'd guess that's only gone up in recent months." Here in the UK, only 30 of the companies that originally made up the FTSE 100 are still around. At this rate of disruption, by the 2050s, none of them will be around. So, disruption definitely is a "now" problem.
Short-term drivers of disruption are crises, surprises, and moments of big change. Andy also mentioned elections, trade wars, and the COVID-19 pandemic.
"Long-term, we see disruption driven by waves of emerging tech being applied to industries," he said.
In response to both kinds of disruption, the first instinct of many businesses is to stick to what they know works—naturally, that's to be expected. But Andy pointed out that this response carries its own dangers:
"Some companies make very cautious moves. This is risky!" he said. Others make a deliberate choice to be disruptors rather than disrupted."
The captain's choice
Those that make this choice often see the change needed to become a disruptor or to avoid disruption as a one-time transformation, like a caterpillar turning into a butterfly.
Andy cautions against this approach.
"Transformation is more than a one-time thing," he said. "We need agility for continual change in the existing business and to take big steps forward.
"It's for black swan events and for slow-boil stuff."
Andy compared leading an organization through disruption with being the captain of a ship at sea.
"Imagine you're at sea and it's calm and you've got a ship full of cargo and crew and passengers," he said. "Then clouds build, and the sea gets choppy. You can tell there's a storm blowing in.
"Do you turn the ship around? Do you abandon ship? Do you try to navigate through the storm?"
"It's very easy, in the middle of the storm, for the crew to lose confidence, for the passengers to panic—even for the captain to lose their head."
Whatever the leader decides to do, Andy said, they need to make sure their plan works on three different levels: heads, hearts, and hands.
"'Heads' means it's a rational change that makes sense now," Andy said. "'Hearts' is stirring people's emotions and giving them something they can belong to or believe in. No big change ever happened without emotion. Then 'hands' is getting people to do something about it."
The power of an agile culture
This brought us to one of the major themes of this second season of Talking Agility: the vital role of culture in organizational behaviour and performance.
We've previously discussed on the show that culture change is very often hard and slow. One reason for this is that culture—and how culture changes—is different at every organization and in every team.
"I believe culture is unique to every client and strategy. Organizations need to find their own way into agility," said Andy.
"But it's not magic. Culture is created by people and teams, and leaders behaving in a learned way."
Andy brought up the example of Lloyds Banking Group, where we used behavioural science and partnered with the innovation firm ?WhatIf! (which recently became part of Accenture) to run hundreds of behavioural experiments within their transformation function, with the aim of shifting the culture long-term.
Andy also made the point that a more agile culture is, by definition, a more human and diverse culture for the simple reason that agile organizations are open to experiments and new ideas.
And underpinning all of this are psychological safety, belonging and trust. Going back to Andy's analogy of the storm, fear can be going through the minds of passengers, the crew or even the captains, but the crew that feels safe, together and trusted will thrive in the storm, even in the toughest of conditions. When people feel they belong and can be fully themselves, they are comfortable to share the half-formed idea or speak up about the concern they have. Andy noted:
"Does the young woman on a technical apprenticeship, who maybe grew up on the wrong side of town, feel like she belongs in your organisation and in her team? That she will be listened to?
"Will she help you design a new proposition that appeals to a growth market? Will she speak up and help you redesign a biased algorithm?
"Or will she just leave for Google because they are a better fit for her?"
It's important to note that this isn't a feel-good bromide. Accenture research has found that businesses with truly equal cultures have a six times greater innovation mindset than unequal ones.
These are just some of the insights Andy shared in our wide-ranging and candid conversation. You can hear all of what he had to say in the full episode of Talking Agility here:
And, as always, I'd love to hear your feedback and suggestions for the show. You can either reach me here or share your feedback through your preferred podcasting platform by commenting under each episode.
Visit Andy Young's blog here. And to read more about Accenture's Disruptability Index, click through here.