Other parts of this series:
---
Accenture has conducted the Compliance Risk Study every year since 2013.  Over that time, we have seen Compliance functions make a marked turn towards innovation-fueled strategies, as they seek to deliver the risk management outcomes required in an era of digital transformation.
In the 2017 Compliance Risk Study, we found that Compliance functions were using three main strategies – "improvers, integrators, and innovators" – to address the challenge of sustainability.  This year's study, along with our industry experience, indicate that time has run out for the more watchful stance of the "improvers." Industry shocks are becoming more commonplace in an increasingly volatile risk environment, and the creation of annual plans driven by once-a-year risk assessments is no longer an effective compliance roadmap.
As digital transformation drives changes in customer behavior and alters the demand for banking services, the threat landscape for financial institutions is changing.  At the same time, regulators' focus is changing, as regulators are demanding that financial institutions demonstrate compliance in their business outcomes in addition to adopting the right controls.
The pressure is on financial institutions to adapt their functions to the ever-changing compliance risk profile of their firm and to their role as a critical part of the control framework.  Four key study findings emphasize this need:
Technology is outpacing talent as a response to the need for change.
Compliance should target continual innovation to respond to the needs of the industry.
Compliance functions should respond with RegTech to expose and address the web of risks organizations are increasingly exposed to, and should build, buy or subscribe to the technologies and services required to support their Compliance Risk Management program.
Compliance functions should chart a course for more resilience in their change efforts and worry less about the roadmap, as industry changes occur at a faster pace in the digital era.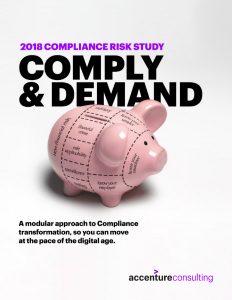 With a faster pace of innovation and a rapidly evolving regulatory landscape, change is required for Compliance operating models, technology and talent.  In this blog series, we will look in more detail at each of these findings and at their implications for Compliance functions.
For more information, please download the 2018 Compliance Risk Study.