Regulatory Context
As the global banking industry continues to recover from the recent financial crisis; government agencies have aggressively imposed stricter regulations in order to help avoid the possibility of an economic collapse in the future. This has created in our view a complex regulatory landscape for many corporate and investment banks as there are multiple, competing and overlapping regulations.
Source: Accenture, December 2012
Due to the large number of regulations imposed on financial institutions in such a short period of time, consideration should be given to prioritizing each regulation based upon the complexity of its implementation and its business impact (See chart below).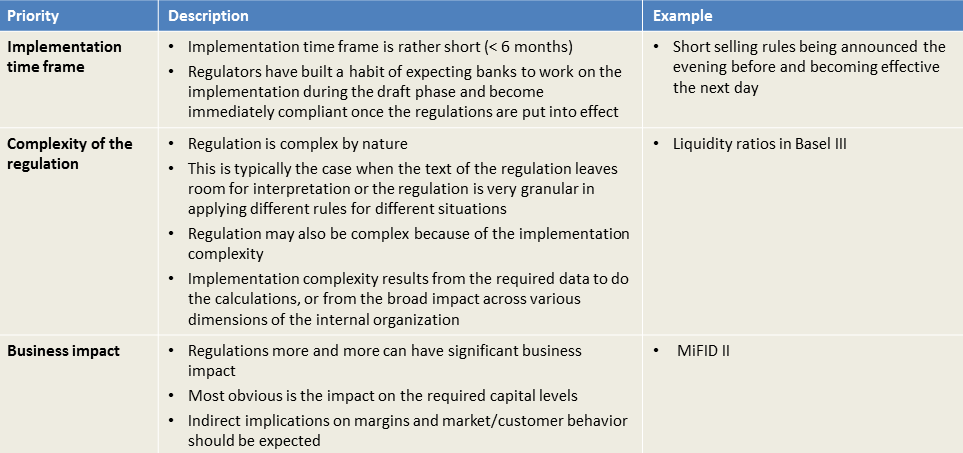 Source: Accenture, June 2013
Challenges with Business Implementation and Adoption
In the face of extensive and complex global regulatory reform programs, banks are challenged to help verify that the business thoroughly understands, implements and adopts the required changes resulting from new regulatory requirements.
Challenges faced while implementing strategic goals
Source: Accenture, June 2013
Where Accenture can help
To help address the challenges posed by new regulatory requirements across the enterprise, Accenture suggests financial services institutions consider implementing a well-developed Enterprise Project Management Office (PMO) structured along three key functions: resource management, delivery management and business/change readiness.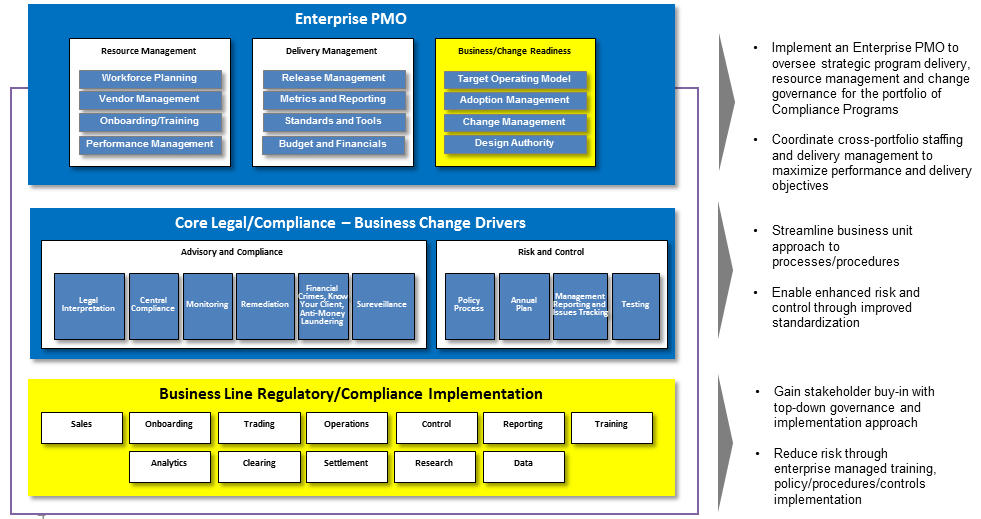 Source: Accenture, June 2013
Business Readiness Mandate
Accenture has the skillset and regulatory experience required to help financial institutions implement a favorable Business Readiness Mandate in order to comply with the on-going demands of regulators. In the charts that follow, we touch on the building blocks for a business readiness program, including a structure and approach.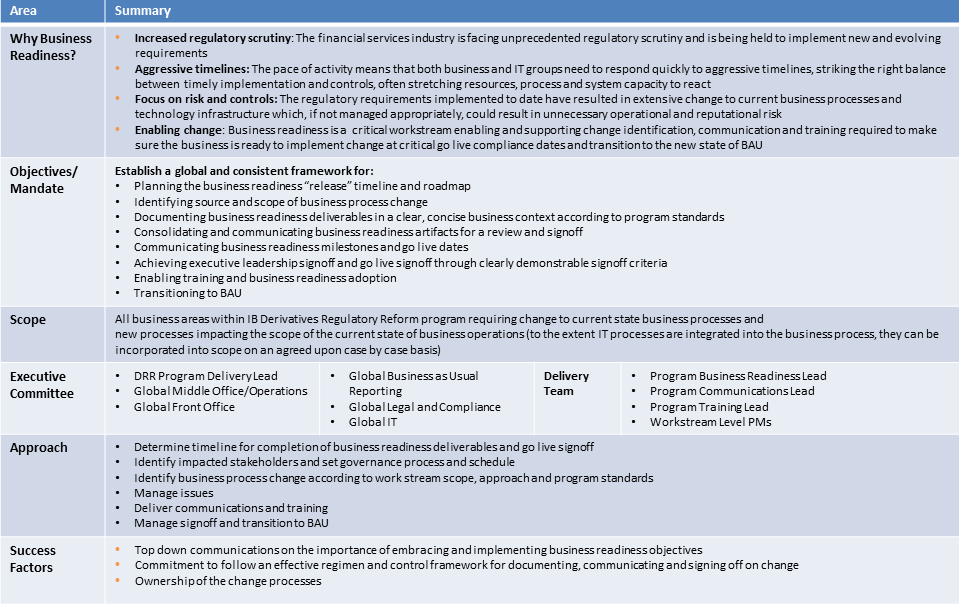 Source: Accenture, June 2013
Example of a Business Readiness Organization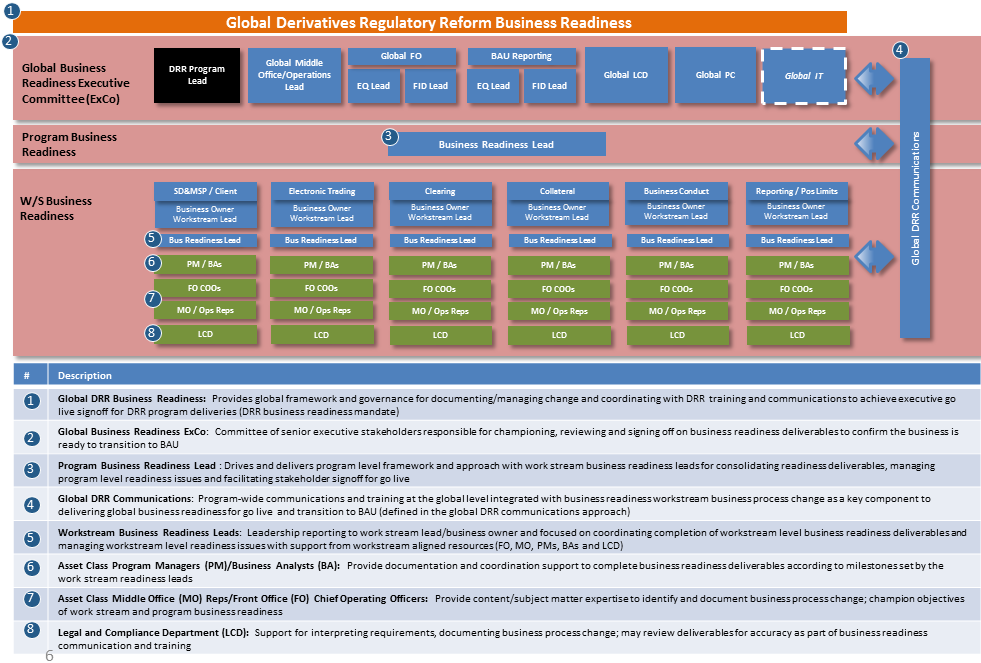 Source: Accenture, June 2013
Example of a Business Readiness Implementation Approach
Source: Accenture, June 2013
Newsletter Contacts:
DISCLAIMER: This blog is intended for general informational purposes only, does not take into account the reader's specific circumstances, may not reflect the most current developments, and is not intended to provide advice on specific circumstances. Accenture disclaims, to the fullest extent permitted by applicable law, all liability for the accuracy and completeness of the information in this blog and for any acts or omissions made based on such information. Accenture does not provide legal, regulatory, audit or tax advice. Readers are responsible for obtaining such advice from their own legal counsel or other licensed professional.
About Accenture
Accenture is a global management consulting, technology services and outsourcing company, with approximately 319,000 people serving clients in more than 120 countries. Combining unparalleled experience, comprehensive capabilities across all industries and business functions, and extensive research on the world's most successful companies, Accenture collaborates with clients to help them become high-performance businesses and governments. The company generated net revenues of US$30 billion for the fiscal year ended Aug. 31, 2014. Its home page is www.accenture.com.
Copyright © 2015 Accenture. All rights reserved.
Accenture, its logo, and High Performance Delivered are trademarks of Accenture.
This document is produced by Accenture as general information on the subject. It is not intended to provide advice on your specific circumstances.
If you require advice or further details on any matters referred to, please contact your Accenture representative.