The future of learning is a race between education and technology.
A recent report from Accenture throws this dynamic into sharp relief: game-changing technologies are making new levels of performance and growth possible for organizations and economies. They're also precipitating a skills crisis that could hold back their promise.
Here are five charts that explain what's going on—and what to do about it.
Almost 90% of worker time will be augmented or automated by intelligent tech
The projected impact of intelligent technology on the way we work is hard to overstate. It is no exaggeration to say that it could revolutionize the world of work. This chart illustrates the report's analysis that an average of just 11 percent of worker time across all occupations will be unaffected by intelligent tech. It is interesting to note that for most occupations, more time could be augmented than automated.

The skills crisis could cost 11.5 trillion dollars
Industrial-age education and training systems are not likely to provide the workforce with the skills required to make the most of intelligent tech. This chart presents the results of Accenture's analysis of the cumulative GDP growth jeopardized by an intelligent-tech skills crisis across the G20. The analysis shows that China has the most to lose in absolute terms, while India has the largest portion of GDP growth at risk. However, even countries with lower projected impacts, like Australia and Canada, face the prospect of forgoing billions of dollars in GDP growth.
Redistribution of work roles in the United States, 2017-2028
As intelligent technologies become more powerful and more integrated into the world of work, employment shares will shift. This chart depicts Accenture's projection of this impact in the United States, where the demand for intellectual skills like leadership, empathy, support, and engineering is expected to increase. The picture looks different in other countries—for instance, the full report contains the equivalent graph for China.
New tech has already changed the skills we need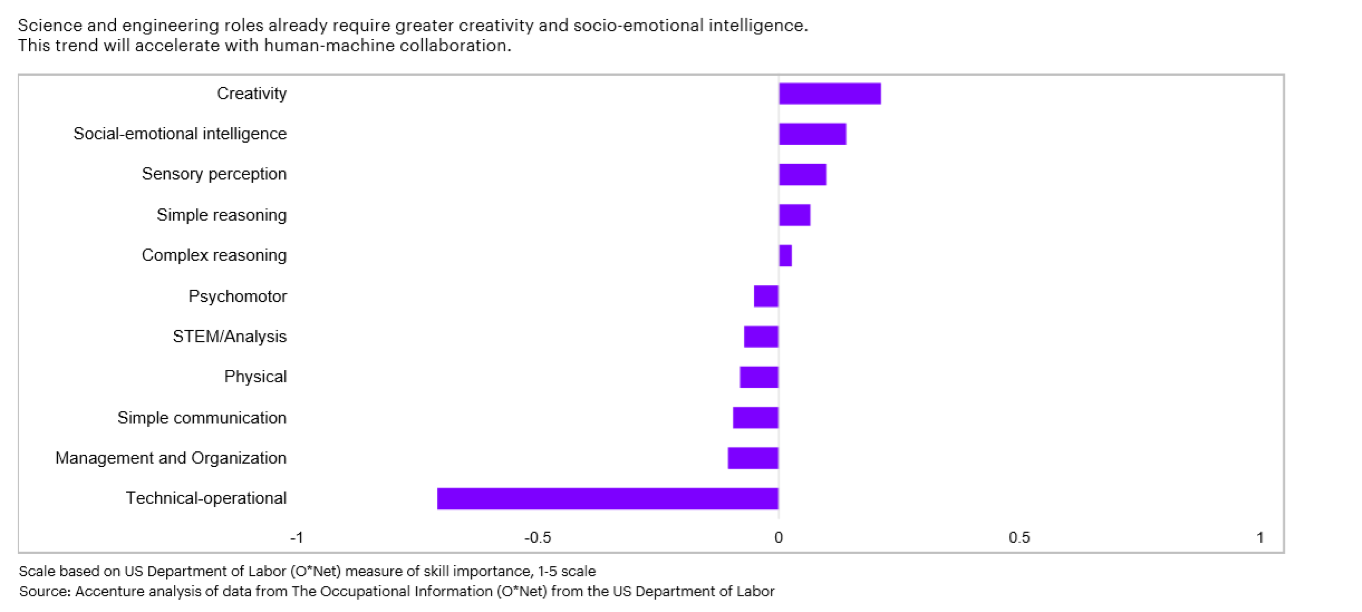 The impact of intelligent tech on the nature of work already includes big changes for specific roles. This chart adapts a United States Department of Labor metric to show how the skills needed for science and engineering roles have shifted since 2004.  Technical-operational skills are now less important, while creativity and social-emotional intelligence matter more. Intelligent tech is expected to accelerate these trends.
Intelligent tech will mean different things to different workers
Intelligent tech will impact different workers in different ways. This chart underscores that low-skilled workers are most vulnerable to having their tasks automated by cutting-edge tech. Learning leaders need to start thinking now about how to empower vulnerable learners to truly close the skills gap.
Combined, these five charts give an overview of the projected impact of intelligent technology on learning, and the skills crisis they could precipitate. The Accenture report they come from is rich in detail and further insight. It can be accessed here.