Other parts of this series:
---
In my previous posts, I discussed how adoption of artificial intelligence (AI) and other smart technologies is changing the way we work. We're in the thick of an exciting revolution—one that will determine the future of work and our place in it.
Your workers are the heart of your enterprise. It's up to you, the leaders of your organization, to create the future of work. To start, you need to empower your workers to work with intelligent machines, helping to build your workers' confidence that the organization is preparing for the predicted changes ahead.
3 steps to empower your future workforce
Our research points to three key actions that you can take to elevate your workforce:
Reimagine work from workforce planning to work planning
Pivot the workforce to areas that create new forms of value
Scale up "new skilling" to work with intelligent machines
Step 1: Reimagine work
Recent research by the World Economic Forum in collaboration with Accenture shows that even as automation continues, there is likely to be a smaller percentage of job losses (16 percent net) than previously predicted. However, we need to shift our minds away from the debate on job gains and losses to one where we reimagine work in its entirety.
It's important to adopt a systematic approach to unlock the value that comes from human-machine collaboration. Start by re-examining the nature of work and asking: what skills do my employees need for this new type of work?
Actions to reimagine work: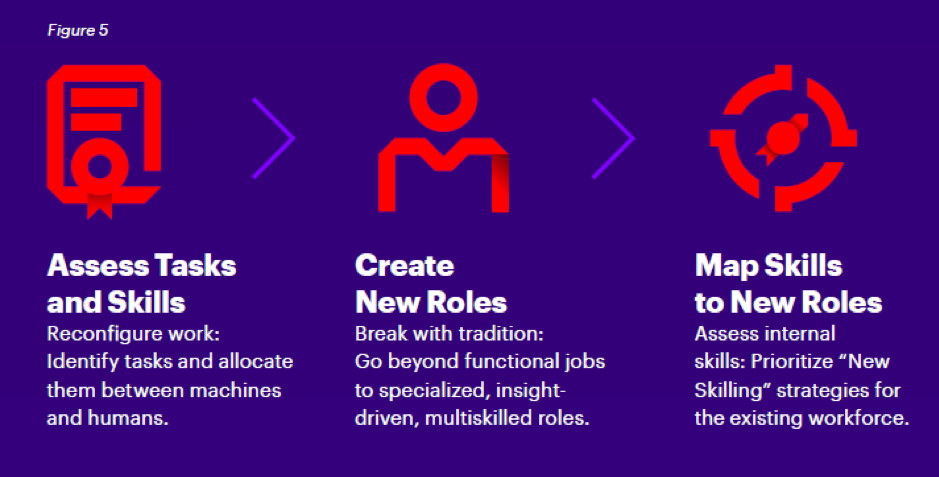 Once you've reconfigured the jobs in your organization, you'll notice the benefits: employees can take on higher-value work that is more strategic and satisfying. Take a look at the figure below at how traditional roles will change: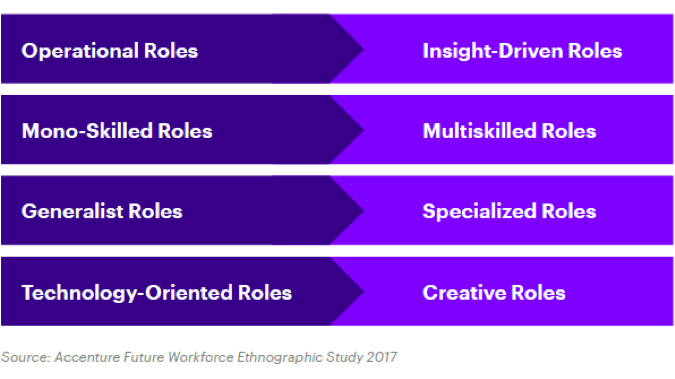 Step 2: Pivot the workforce
Seventy-two percent of executives agree that adopting intelligent technologies will be critical to their organization's ability to differentiate in the market, while 42 percent believe intelligent technologies will be behind every new innovation they implement in the next three years.
This shows that business leaders are ready to reposition their organizations to use AI to create new customer experiences and business models.
When it comes to pivoting your business, you need to think about long-term gains. Give your workers the skills to adapt to new customer markets. Make sure your business processes are flexible and that your leaders are on board with a new culture.
Four steps to pivot your workforce:
Align the workforce to new business models. Shift the purpose of your workforce to sync with your value proposition to customers.
Recognize the business case. Don't simply bank efficiencies to benefit the bottom line. Turn the savings into investments in the future workforce that will propel new business models. Accenture, for example, puts 60 percent of the money it saves from investments in AI into our training programs.
Organize for agility. You need an open culture to encourage workers to experiment. It's important to involve people in decisions that will change their work and environment.
Foster a new leadership DNA. Leaders should become co-creators and collaborators with their workers. Good leaders recognize that the more digital we become the more human connections matter. Agile workers have new expectations of leaders—make sure you can live up to them.
Step 3: Scale up "new skilling"
Once you've established the new and reconfigured jobs in your enterprise, you need to invest in training programs to give your workers the skills to do these new jobs.
"New skilling" programs must be rapid, flexible, tailored and large-scale to maximize the value humans and machines can create together.
The figure below shows how we do it at Accenture: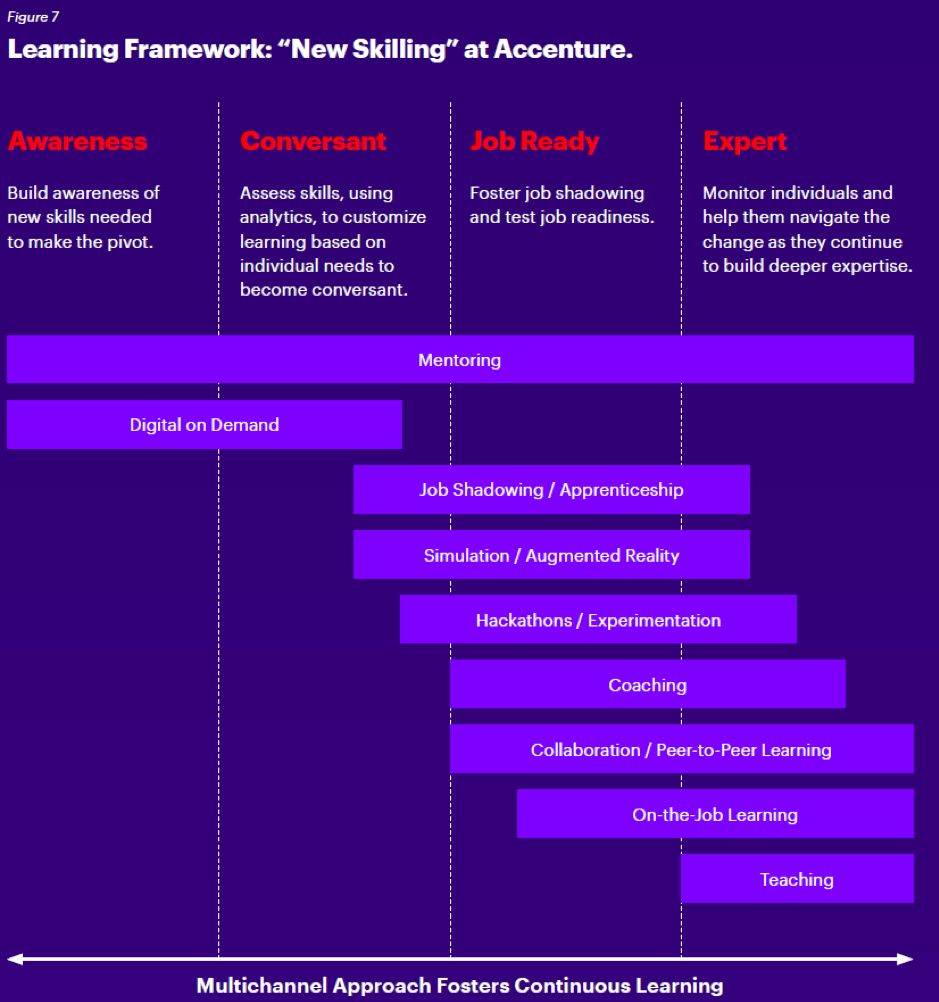 To expand the reach of your skills program, take the following three steps:
Prioritize skills for development. Executives see resource management, leadership, communication, complex problem-solving and judgment / decision making as the most important skills their workers must gain over the next three years. We also included creativity and insight to the list.
Account for willingness and skill. How skilled are your workers, bearing in mind that you are training people from different generations? How willing are they to learn new skills? Our research shows that confidence varies by age, and so it's important to target your "new skilling" efforts to different age groups.
Go digital to create innovative learning experiences. Use digital learning methods like virtual reality to help workers master new tasks in a simulated environment.
The revolution is upon us and it's about so much more than business efficiencies. Used correctly, AI has the power to help us change the world. This change starts with you and how you equip your future workforce with the skills to harness the power of intelligent technologies.
For more information, download the Future Workforce reports for Banking and Insurance. To find out more about digital HR in FS or to join us at the Change Directors Forum and People Innovation Forum in London, please contact me here or on Twitter @knott_nic.